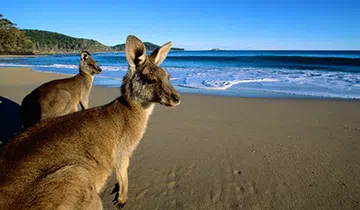 Plunge into the Blue and discover Oceania on a Cruise!
Book with Taoticket a different holiday, discover
Oceania
! This continent is the ideal place to take a break in any season, thanks to its
warm climate 365 days in a year
. With a cruise to Oceania, places like
Australia
,
New Zealand
and
French Plynesia
won't have any secrets for you. You can visit the most beautiful and characteristic places of this part of the southern hemisphere.
Sydney
,
Auckland
,
Brisbane
and
Wellington
are just a few of the destinations reached by the best cruise ships.
Cruises to Oceania: things to see and do
The cruises to Oceania are characterized by the
eclecticism of their calls
according to the company you choose, your holiday is different. If you have always wanted to visit Australia, you can now leave with Princess Cruises, that will take you across the whole Country. Among the various activities, we suggest the
excursion to Sydney Opera House
, symbol known all over the world and projected by the Danish architect Jørn Utzon. With
Holland America
the excursion includes a
opera show at the theater
, an experience you absolutely have to try. You can hike on the
Blue Mountains
, rock canyons part of
UNESCO World Heritage
and a landscape that will leave you breathless. Steep peaks, rugged tablelands and a predomination of eucalyptus plants: important aspect, as this chain was named after this plant. It is from eucalyptus that blue oil drops distil. If you want to discover
New Zealand
, whose nature seem to hide mysteries,
Royal Caribbean
and
Holland America
are just what you need. You can reach
Auckland
,
Wellington
, Napier and many more and fill your eyes with that
intense green
that characterizes this Country. The
Lord of the Rings
totally amazed you? Did you know that the film was filmed in prevalence in this lush land? An expert guide will take you to the places that have been the setting of one of the most famous films ever. In
Wellington
, capital of New Zealand, you will visit the Botanic Garden and its 3.000 roses and infinite varieties of plants, conifers and protected forests. If you love nature, reach
Wairarapa
, called by the old
Maori
population "the land of glistening waters", where you will be fascinated by the spectacle of the lakes and rivers. This area is the heart of New Zealand's wine production and is rich of vineyards.
If your perfect holiday is
stilt houses on crystalline water
, white sand and exotic atolls, book your luxury cruise to the
French Polynesia
with Taoticket. You can travel with Paul Gauguin on an exclusive luxury cruise that will make you feel like a V.I.P. Costa Cruise also touches such dream places: you can go to
Bora Bora
that rises on an inactive volcano creating an incredible contrast with the blue of the sea – a heavenly oasis with a lush vegetation and dazzling colors. You can visit the
Fiji Islands
,
Papeete
,
Tahiti
: dream destinations that will become your home.
Find your ideal cruise with the help of operators!
Offers and last minutes
all year round to make your dreams come true! Our operators know how important it is to
travel safely and comfortably
and they will immediately understand what you need. They will swiftly organize your perfect holiday with the best rates of the moment.
Holland America
,
Royal Caribbean
,
Celebrity Cruises
and
Princess Cruises
are some of the cruise companies that make you discover this company and make you feel at home thanks to the
top-quality comfort
on their ships. The impeccable service will make your cruise a
perfect combination of adventure and relaxation
as you have never experienced before. You can leave from
Sydney
and reach the close
Port Vila
e
Mystery Island
, totally uninhabited and perfect for your load of relaxation.
If your dream is reaching the
French Polynesia
, you can travel with
Paul Gauguin
and arrive at
Papeete
,
Bora Bora
and those places that so far you have always considered unreachable.
Oceania is the perfect place for a
variegated holiday
: you can make cultural tours of the cities both with the companies' excursions and independently and you can alternate this tours with stop-overs in dream beaches where you will have only the horizon in front of you. This ancient land, where native populations set up about
50.000 years ago
, is now at your fingertips, take advantage of our
offers
and
low-cost solutions
always available. A cruise to Oceania with Taoticket is the best you can ask for, and don't forget you don't have to take care of anything! Our operators will organize for you the perfect trip, giving you the
best offers and last minutes of the moment
, booking for you the cheapest flights from the city you want to make you and your family travel safely and comfortably.