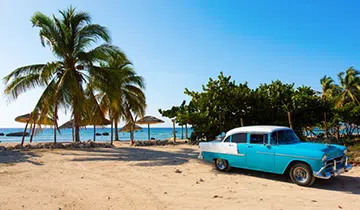 Have you always wanted to go to Cuba, but you don't even know where to start? Go on a cruise! Leave from Havana and immerge into the vitality of this magical city, among the flavour of the cigars, the enchanting music and the incredible atmosphere that surround this place. .
Fill your eyes with the bright colours and the captivating music of Cuba, exotic place par excellence immerged in the blue of the Caribbean Sea. With a Cruise to Cuba you will discover precious place you will fall in love with. Havana, the capital, is an explosion of intense colours, vintage cars, exotic music that you will feel incredibly familiar… It won't be strange to stop in the middle of the street and start dancing while you're visiting the city. Malecón is a place you can't miss out. It is a promenade where the locals meet during the day and at night. It is surrounded by bars facing onto the sea and it is the perfect place where you can enjoy a good mojito looking back on Hemingway, that bought the Finca Vigia and wrote some of his most famous novels.
Here you can find the right place to buy the famous cigars, such as the Real Fabrica de Tabacos Partagas, that offers fine tobacco and where you can taste the flavour of the most famous cigars in the world. The Habana Vieja is the part of the city where the contrasts coexist. Flea markets and boutiques, kids playing in the streets and elegant renovated buildings. This part of the city is so variegated that its combinations are a constant surprise.
Cuba's strategic position offers the chance to visit the most incredible Caribbean Islands, enjoying crystalline waters and exotic flavours immerged in a warm sun that will regenerate you.
Departing from Cuba you can reach Jamaica and Mexico, all on board of a ship that will cut through a transparent sea and will make you live an authentic adventure. Give yourself a real heaven of relaxation far from your everyday life, let yourself be involved by the charm of these places that will make you feel unforgettable emotions.
A Cruise to Cuba takes you to dream places that you would never leave, with all the comfort and the services of the most equipped cruise ships. A perfect holiday, between adventure and relaxation.